Hi, I am doing up a pretty old Bessacarr Cameo 550GL. Everything is coming along nicely, with one major obstacle to overcome. The hot water system.
This caravan will be permanently sited on bricks, it will never go down a road again. Its just friends and family visiting us. We need hot water for our visitors so they can have a half decent shower. It doesn't need to be powerful, a standard modern caravan shower would suffice (more pressure would be better of course, but not essential).
In this caravan there is what appears to be a gas/240/12v water heating system which does the central heating (not needed) and the hot water to taps. It's very old but I had a gas man out today (our boiler man) and he had a good look. He didn't know as much about it as I hoped, in fact he knew almost nothing except for how the gas part works and obviously understands safety issues which was where I drop tools and get a pro in. Turns out maybe I wasted £70 and we don't have much as it is so pretty disappointing. Anyway... the gas burner fired up nicely. Good start. Here is the control unit for the system: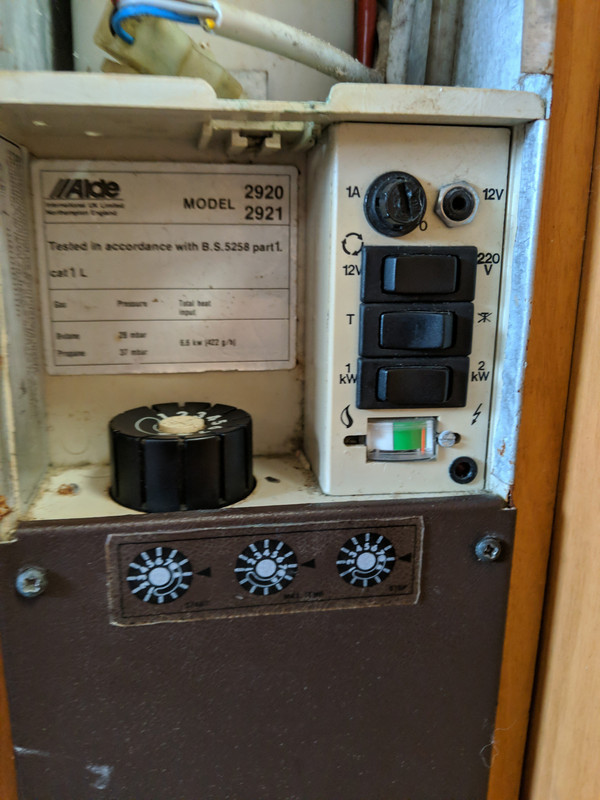 Behind the burner there is this: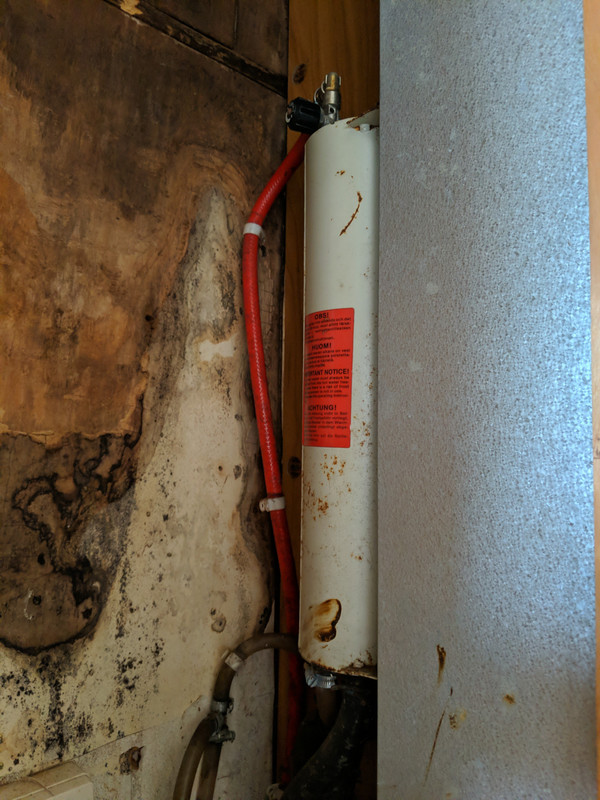 I assume that's a hot water storage tank. If so, it's ridiculously small, yet this caravan was a luxury model and has a lovely shower cubicle, but the best we can get is around 50 seconds of hot water (hot enough for a shower) before it runs cold. The burner is good and definitely producing a good blue flame. So it appears to just be the design of the system. The storage tank looks like a MAX of 2 litres, that would be my guess. It doesn't seem as big as two 1.1 litre milk containers anyway!
Below the 'tank' is this: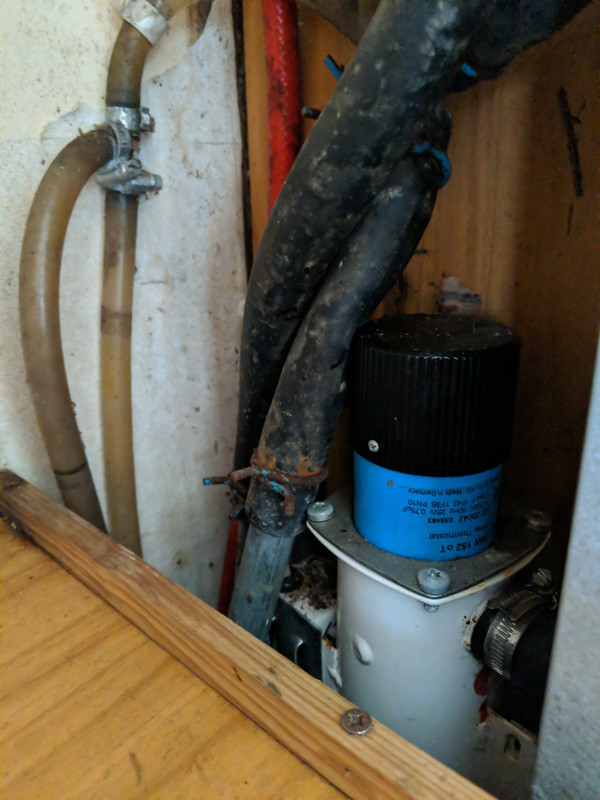 I think that's a water heater element. It says 25W on it, and "ohne thermostat" (german for 'without thermostat'), and it says it can run on '1-240v.' But that produces the tiniest bit of lukewarm water. The gas burner doesn't seem to heat water as it passes through, hence the longest you can run the hot tap for is the contents of that teeny weeny tank behind the burner. I half hoped that running it on 240v as well as gas, at the same time, MAY just extend the under a minute shower time! But it doesn't. Annoyingly the central heating works lovely but we have zero use for it, so I am now looking at ripping this whole Alde system out, and replacing it. It's at that point that I get stuck.
I would be really grateful for any advice or thoughts on the current ideas we have, to replace the Alde burner with:
(PS - please keep in mind this caravan will be permanently sited, never will move, and will permanently have 240V supply via a standard (13Amp socket). I can't increase that very easily, so I am looking for the best I can do safely on 13amps)
1. The boiler man suggested a "Rinnai" gas water heater which could be installed outside the caravan, on a fireproof board on the wall or a few feet away maybe. That is an instant gas fired water heater and I think I could just put that in line. I.E. - Rip out Alde system. Feed cold into gas water heater, feed hot from there into van's hot pipe, bobs your uncle. I had this idea myself, although the Rinnai things are very expensive so I was thinking more like a 'chinese cheapie' version of the same thing - something like this
https://www.ebay.co.uk/itm/8L-Hot-Water-Heater-Portable-Bath-Shower-Propane-Gas-Instant-Tankless-Ridgeyard/223557047406?hash=item340d09d46e:g:OcAAAOSwQiNc27Z9
- which is a bargain, but may last about 5 minutes. I would be willing to chance it though.
2. He also suggested a "under the sink type water tank" to run on mains, maybe 2-3kw (max). He seemed to think that would supply enough 'heating power' to provide a small tank of readily available hot water plus would heat on the way through to SOME extent, as in just enough to extend the shower a minute or so.
3. I could just try a household type (small one though) immersion tank, so long as wattage was down low.
A few things I am considering, in case anyone has tried any of them in this type of situation! Thanks to anyone with comments, really need to get a usable shower here and a bit stumped as to which way to go. (Oh and PS... we have a 6.4litre per minute Shurflow, very old noisy pump. I may need to replace that so I could up the pressure a bit, but keeping it well below household pressures so pipes don't pop off throughout the caravan!).
Free delivery and returns on all eligible orders. Shop Ariston 2kw undersink Water heater 10 litres.
Free delivery and returns on all eligible orders. Shop BuoQua 2KW Electric Hot Water Heater 50L Electric Hot Water Heater Boiler Cylinder Tank Storage Water Heater for Kitchen, Bath(2KW/50L).
https://www.amazon.co.uk/Stiebel-Eltron-Handwash-Water-Heater/dp/B006W7K834/ref=sr_1_18?crid=2MUJVB8NMG71E&dchild=1&keywords=2kw+water+heater&qid=1598545643&sprefix=2kw+wat,aps,175&sr=8-18
- Crikey, that's cheap, if it would provide enough heating capacity for a 6.4litre per minute pump, that could be a very cheap but just about usable shower, maybe?!
Thanks again.