Feb 13, 2022
553
407
1,135
I
definitely
read the desccription when I ordered it. I
knew
it was an 80cm dish, just didn't fully appreciate the size of it until it was stood in my living room.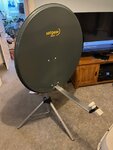 It's a zone 2 dish. I went for that as I plan lots of trips to Scotland in the 'van, and also it will give me better gain at the inevitable height disadvantage whilst down South. Managed to get Freesat signal out the front of the flat, pointing towards a narrow gap between houses. It was easy enough to set up with the supplied sat finder. Only little niggle I have is the fact you need a spanner / socket to adjust the elevation. I plan to replace these nuts with wing nuts and washers at some point. The dish it's self isn't very heavy so will likely live under the bed when not in use (the LNB arm detaches).
I'm only in a one bed flat so not huge amounts of storage available. It's temporary home is in my bedroom at the foot of the bed. I'll probably wake in the middle of the night and think aliens have come to take me away...
Easy enough to put together, just as well because I couldn't find much in the way of destructions. All in all a nice bit of kit.