Been scanning old pictures and came across these two from the early 90's
first the Isuzu Piazza I used to tow with. And it was really good but it did look unlikely tow car.
Looking at it now, it appears that its hitched up with the awning on, I think I was just being ready to use the car battery if needed.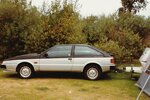 And this is the, stuff ready to load to come home from France. A bit mad. I think the coke was going over the top.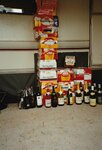 John
Last edited: