I have just put a new battery on our recently acquired 2014 Sterling Eccles Sport. No external power connected, however it has a factory fitted solar panel. As I fitted the battery there was some very small sparking. Prior to fitting I had the battery on my CTEK charger until it was fully charged. The sparking prompted me to put an ammeter in the circuit, and too my surprise the battery was receiving about 1.2A of "charge" for about 2 seconds then 150mA discharge for about 0.5 of a second, this appears to alternate in this fashion indefinitely, my concern is that 1.2A in for a fully charged battery, even if it is intermittent seems odd?
So I thought that I'd see what the solar panel was up to; the direct output of the solar panel is 19.14V , that seems ok?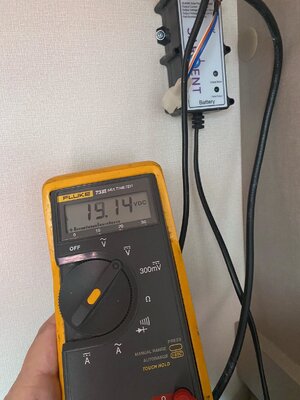 however measuring the output after the Sargent regulator and its only 6.55V, now this is clearly with no load, so the regulator may give a different output with a load? I intend to find something that loads it with a few Watts and see what the result is.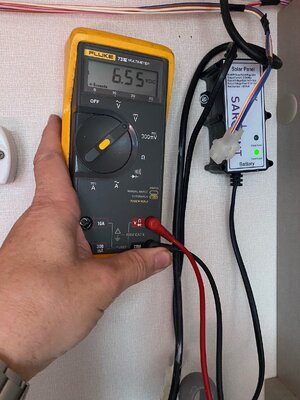 With the solar panel disconnected I went back to the battery, and again with the power switched off I am seeing a 150mA drain, if this was a car I'd call it a parasitic draw. I'm assuming with the power turned off, and the solar paned disconnected, nothing should be drawing any current, or am I incorrect in this assumption?
I have dug out the schematics and will ponder over them tonight with a glass or 2 of wine, and tomorrow will disconnect circuits to see if I can isolate the current draw, but would appreciate any advice or thoughts that may save me some time.
Incidentally, as you can see I was using my trusty analogue meter when measuring what I'm calling the parasitic draw, and there is a constant very slight flicker of the needle, again odd, but at least illustrates one benefit of using an analogue meter when fault finding!