Hi everyone,
What do you use to stick your number plate on your caravan?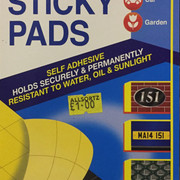 I saw these for a quid and thought they promised what I needed (due to the picture of a number plate) but after it fell off being stuck on with 4, I stuck it back with TWENTY TWO of the little blighters and it still fell off. With the 4, the number plate side came off and they were stuck fast to the caravan, with the 22 the caravan side came off and they're just as stuck to the number plate. I've obviously cleaned all surfaces beforehand etc.
So, obviously once again cheapest is not best.. but what IS best?
Thanks!