Ok so I'll get to nose weight later. I've loaded the van with everything (apart from clothes and food) and hitched up and popped down the the local dynamic axle weighbridge at the ferry terminal.
Our boot is still empty but car has roofbox with stuff in it and as I said before, the van has all equipment loaded in plus gas bottles etc.
So all we need to add is suitcases and food to the boot.
The car's says this: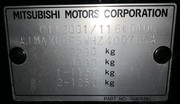 Here's the readings from the weighbridge:
Front axle: 1080kg (so 70kg under)
Rear axle: 1150kg (so 100kg under)
Van axle: 1480kg (so 38kg under MTPLM)
Gross train was 3710kg (so 680kg under)
I assume that I'm ok on all counts there????
My nose weight issue is about trying to work out what my target is and then how to get to that. I'm guessing too nose heavy needs some weight further back and vice-verse.
However things are looking good I think.
Any pointers on all of this are most welcome.
Here's a shot of the outfit for judging: