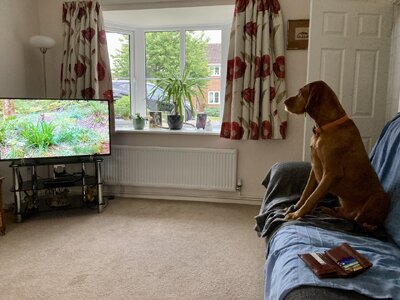 On Tuesday my wife went off to Turkey for two weeks. The evening before we were chatting and I commented that I could not remember when I was last alone at home for any time without having the company of a dog(s). So Tuesday evening my grandson asked if I could look after their dog whilst he was at the Reserves and his fiancé at work. So I said " yes not a problem"
Well after taking the mutt for a good walk I settled down to watch Springwatch. The mutt climbed onto his normal spot on the settee and seemed to drop off to sleep. Then all of a sudden when a fox and cubs came on up he shot, then went over to stand right in front of the screen, even trying to go around the back to see where the vixen and cubs were.
Who says they don't know what they are seeing?