Hi
I have a 2010 cameo 625 with an on board water tank, but the plumbing set up does not apprear to match the handbook. i don't think the previous owners did anything to it as they'd hardly used it in the 3 years they had it.
When on EHU the water is pumped from the aqua roll and either into the tank or direct to the taps, depending upon what i set the system to do. The problem i have is, when not on EHU - ie 12 vt battery (in good condition and fully charged) - the internal water pump does not switch off even though the taps are shut and there are no leaks. I have checked the pump in the aquroll, it's not actually pumping water even though it is on. This suggests there is something wrong with the system reading the pressure in the pipework - it thinks the presure is low and therefore needs to switch the pumps on, but the pressure within the pipes is fine, which is why there is no actual water being pumped.
I'm after help with idetifying the cause and also what the different compondents are and what they do. Thanks.
From the outside - where the aquaroll is, following the pipework towards the tank, the set up is the following:
1. pipes come in from the outside: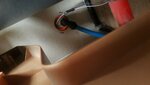 2. Come to a white thing that is connected to a pale blue shrink wrapped thing (relay??) via 2 brown wires & white electrical connectors: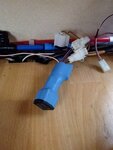 There is then a T junction diverting water off to the surge potector (No 4) and the hot water system.
3. Then a black electrical thing (solenoid?) with wires coming out of it (the black elbow i a sparate :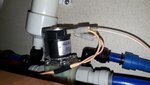 4. The surge protector on the diverted hotwater system: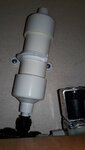 5. There is then then the Floject diaphram pump. because teh pipework goes behind the bulkhead, i can't see which pipework this is connected to (but not sure that makes any difference to the issue i have):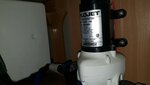 With the pipes then going to the onboard tank or taps.
According to the handbook, i should have: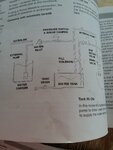 and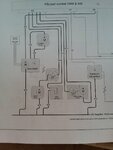 But i can't seem to make the drawings match up with the physical.
I know the flojet is working fine, and i've also adjusted the pressure switch within the flojet, which has not stopped the problem.
I'm interested in knowing what items No 2 (blue shrink wrapped thing) and item No 3 (solenoid?) are and what their purpose is? I suspect one of these two (or both!) are faulty, so help would be appreciated.
To repeat, when on EHU the system works absolutely fine, it is only on 12v that the pump does not switch off. There are no issues with the battery, (new and fully charged). there are no issues with blocked filters, kinked pipes, leaks etc.
Thanks
Fiona