On out front window there appears to be either dirt or scratches in between the two panes of the window. Its not always visible as it depends on the light and direction your looking. It's most likely been there since day one when we bought the van last October but being able to use it over the last couple of months and the good weather has meant that we've only just noticed it.
I think its on the outer pain only because the pattern on the inner pane is exactly the same. There is nothing on the outer surfaces of either pane that I can see.
We're due a service for our first service at the end of September and I will raise the issue then hoping this can be 'fixed' under warranty.
I'd appreciate any comments on what you think it might be and the likelyhood that I'll get it fixed under warranty, which will most likely be a new window.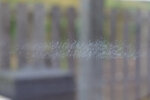 Many thanks