Thought I might give others a heads up on a useful Windows App.
I have just renewed my efforts into scanning my boxes of old pictures. I bought a new printer as the old one was very old. This Canon gives lovely quality photographs. The scanner is also good and will hold 3 pictures which it magically separates into 3 different files. So a bit laborious, but it works.
As I scanned each batch I tried to put a year to them as best I could. I then put the batch into a folder with the years name. So some semblance of order.
The problem then is uploading them to Apple or Amazon. The latter of which I prefer. Either way, they automatically get sorted into date order going by the pictures MetaData. The scanner has made this the date and time it was scanned. I know how to alter individual pictures MetaData using file properties, but that is extremely time consuming. So I just spent a few hours searching for a program to do this by batch processing. There are a few, the first is an all singing all dancing one called Photo Mechanic. It's for professionals and about £200
Eventually I found the very thing. It is simple to use and just does the one job on a whole folder.
EXIF DATE CHANGER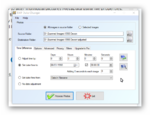 Highly recommended.
John