I have a fuse box which the labels are not correct, I would like to correct, but it needs the wiring diagram and I thought it was 2003, but 2005 and 2008 all have 4 relays in fuse box and my caravan has 5.
It is an Elddis Odyssey and now every thing seems to work.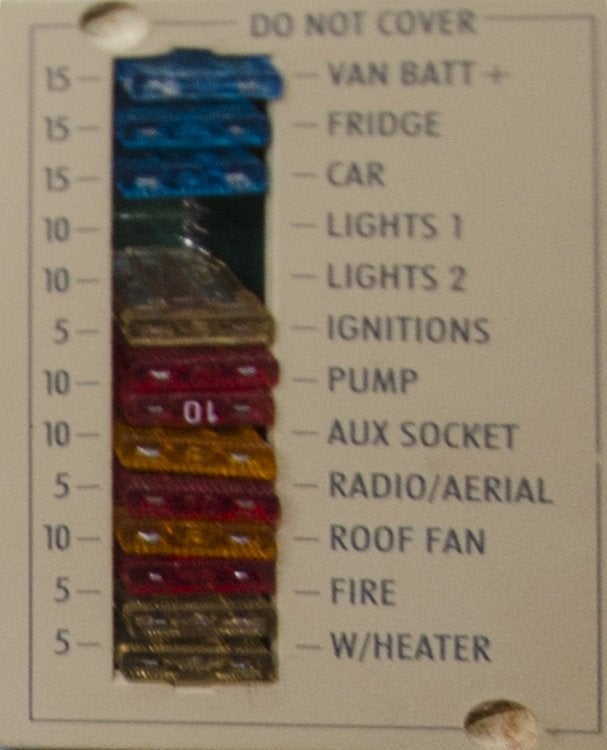 The fuse box has no connection to fuse 2 and 3 marked Fridge and Car, with no car connected Lights1 and Lights 2 are dead, Lights 2 becomes live when the S plug to car is plugged in, Lights at back of caravan are powered from fuse marked "IGNITIONS" I have not as yet removed all fuses to work out what they all do.
The caravan had a hole where the radio would fit, rough cut, I have now fitted a radio, the motor mover I am sure is added extra, there are no PIR's or any sign of an alarm fitted.
Although the 2003 wiring diagram is similar to what is fitted, cable colours don't match, the circuit board is marked PCB-147-MD I have hunted internet however seems it has been superseded with PCB-184-MD which it seems is made in USA. The new board has diodes on it and 6 relays, the old one just 5 relays and no diodes, but circuit diagrams show 4 relays.
There are two what look like MR10 lamps over cooker and sink which I have not got to work, seems to be little pins sticking out of them may not be lights could be an alarm, everything else seems to work now. But it would be nice to have the instructions that are really for our caravan.