Well after a lunchtime meeting with my motorcycle chums, the Pub was closed for a local chaps wake. RIP.
So off to another pub, nice pint and a sandwich. Got home and the dog wanted his walk, so thinking OMG , what's going to happen tomorrow with the Right Honourable, Robin Hood of the government, decided that SWMBO should come with us , to be able to have a couple of pint and a few glasses of wine before we give over our well earned pensions to the Government.
Taxed on your earnings, taxed on your savings taxed on your parents hand overs when they die. Taxed on your pensions.
Rant over.
Have a nice night wrapped in our blankets around the candles.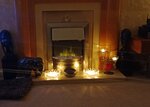 There are just three tea candles in the lower bright lights. Optical illusions