I know F1 is hated by many. But some of us like it. Personally, I am looking forward to it. Many new drivers this year, many innovations on the cars despite financial constraints and stringent rules. eg. Manufacturers are cutting right back on paint to save weight, just painting the top half to allow for sponsors. McLaren has been using vinal wrap for a few years which they say is lighter, but it allows for very detailed advertising and no decal edges to restrict airflow.
Our family do fantasy FT. A granddaughter won last year. I came in third which I am happy with as I missed race 1.
Here are my choices. I only had £100m to spend so taking a chance on Aston. I only have £0.7m left.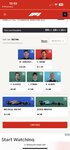 If anyone wants to do it, individually or as part of your own league go to f1.com then select gaming. But you will have to be quick to get Bahrain.
John