Good morning everyone,
I'm looking for some advise quickly, before I agree to the A/C being fitted to my new Swift Challenger Grande SE 670, we pick the new caravan up on the 9th October.
The original plate has MRO 1683kg and MTPLM 1863kg, the MTPLM is now updated to 2000kg, I have driven with a trailer before but not a caravan.
Am I right in saying as a new caravan driver I should be looking at the 85% rule, which with my car is about (2118 x 85/100) is 1800.
- 1800 - 1683 leaves
117kg
payload available?
Or should I be going with maximum Tow KG which is 2400 x 85/100?
We have already had AWD Powrtouch Motor movers added which is 70kg, 2 x TV's at 6.4kg and a battery which is I presume is 20kg, plus the decision about the A/C at 28kg,
this already takes us up to
124kg
, and that's without pots and pans, plates cutlery and the likes., so we have already went over.... arghhhh
Can you please correct me if I'm wrong with my calculations, and help me as I'm stressing out about the weights again.
I have attached the weight results below from Towsafe, but I can see they have the Unladen and user payload wrong, as per plat eon carvan also posted.
Thanks Lee.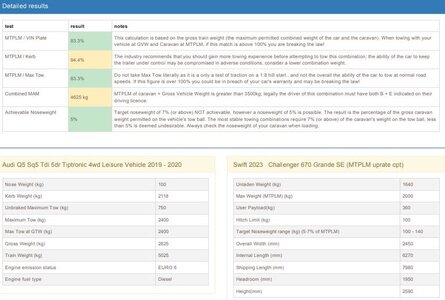 Weight plate on Caravan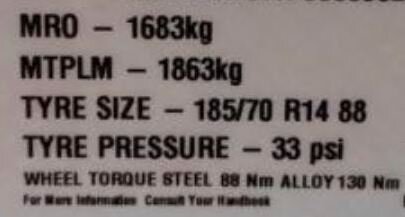 Last edited: