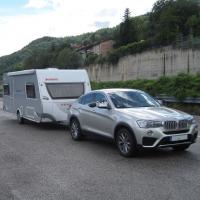 Mar 14, 2005
9,023
144
30,735
Why do you think that as it is not a mandatory statutory sticker although the one on the chassis is mandatory since about April 2012? Most caravans now have a sticker on the body and not a plate.
I was, of course, referring to the statutory plate on the body of the caravan (not the chassis), and not to any sticker by the door which has no legal significance. In fact, unless the statutory plate in incorporated in the same sticker (I believe one or two manufacturers do this) one might just as well remove the sticker completely and save one's self the cost of buying a new one through eBay.
The mandatory plate (or sticker) must state the type approval number, the MTPLM, maximum axle loads and the noseweight limit. Without these details it is not the mandatory sticker.
Last edited: