My iVan screen has been a pain since day one, generally unresponsive needing a very firm push on the touch screen to get it to register.
At the end of last year the screen developed lines running horizontal and vertical then black areas then unreadable areas.
Sometimes you could get the image back by pushing on the frame, but this also became more difficult.
A weekend away in February this year saw the screen hardly useable. As we are lending the caravan to my daughter and her partner for a week's holiday soon I needed to fix it.
With replacement units costing £400 or more , if you can even find one, I needed to find a cheaper and available solution.
With nothing to lose I decided to get my screwdriver out.
** Attempt this at your own risk, I am not liable if you screw it up **
1- remove the outer trim to reveal 4 retaining screws (this is the screen powered on, as you can see totally black)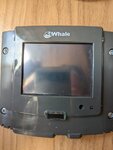 2- pull the unit out and unclip the cable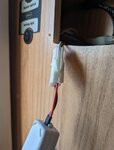 3-put the screen face down on a soft cloth and undo the 4 screws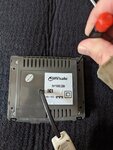 5- gently pull through the black cable to reveal the PCB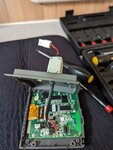 6-undo the 5 screws holding the PCB in place, then very carefully push the tabs on the ribbon cable socket , I can't stress how carefully you must do this, break the tabs and it's a whole world of pain , just slide them towards the edge a bit at a time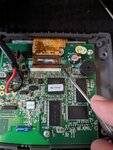 7- remove the foam pad from the back of the old screen and place on the new one, then route the ribbon cable of the new screen into the socket and gently push the clips closed again
(Part number showing incase you need the same, new part is the bottom one)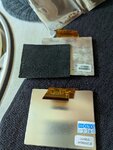 8-As per all the great manuals, refitting is the reverse of dismantling 😂
10-test it. In my case it looks better than new, and requires only the lightest of touches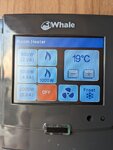 I purchased my screen from
https://www.invshop.com/mobile/new-35inch-320240-lcd-display-et035009dh6-23586.html
Cost was £95 shipped and took about 5 days from China, with great communication from them. I think you might be able to get them cheaper elsewhere, but I needed it quickly.
Nice to save myself £300 for the sake of 20 minutes work, most of which would need to be done if replacing the unit anyway
Last edited: