A few months ago I looked to update my tow car. But even with £12,000 to put with my PX nothing looked like much of an improvement.
So I reassessed my situation and thought. My current car tows very well, it's very comfy and reasonably economical.
So decided to keep it for a few more years.
I had a new cam belt, water pump, auxiliary belts and tensioners fitted with new coolant, £480. This was at my friends garage, he recommended someone to tidy my wheels which were looking scruffy.
I had been looking and lots people have had problems. A new set, fitted, would be around £450.
Anyway, I had them done on Saturday. Striped to bare metal, 10 coats of paint, some baked on, £200. Really happy with the result.
Before: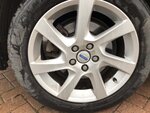 Closer: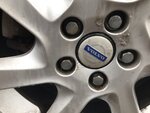 After: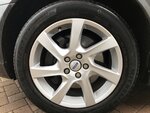 John
Last edited: