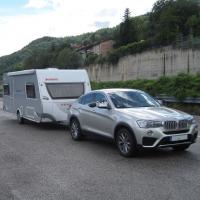 Mar 14, 2005
9,529
486
30,935
Food for thought for the 'towing at 70mph+' brigade:

I was coming down a long descent on the motorway the other week, doing less than 60mph, and the warning buzzer came on indicating that the brakes of the caravan were overheating. This buzzer is one of the features of the LEAS electronic stabiliser that I've got fitted. (Because the working principle of this stabiliser is to apply the brakes, a warning buzzer is provided to indicate that if the brakes are fading, not only are you loosing brake performance but also the stabiliser can't do its job either.)

Without the buzzer I would never have known that brakes on the caravan were fading and who knows whether I would have been able to do an emergency stop from a higher speed with just the car's brakes available to slow the whole outfit down? As it was I pulled into a layby and waited for the brakes to cool down.

Just shows how borderline the braking performance of caravans is!