Is there not a "target" area centred on the steering wheel , like screen damage that applies, rather than "opinions" of particular testers?
If it was any thing you could see, then from my observations the police and ambulances would not stand a chance of passing with the screen dash clutter they drive about with; but that's assuming the rules apply equally to them, unlike us with wearing seatbelts.
About the same clutter as TPMS monitors, stand alone dash cams and rear view monitors all of which whilst potentially beneficial do require driver distraction, whereas the dash cam doesn't come into my field of vision for driving, but can be partially viewed if required from the driving seat. But it's not something I need to look at, unlike the aforementioned kit. One answer to any potential mot problem would be to remove camera and power mount then the small adhesive bonded attachment for the power mount and camera isn't visible from the driving seat. But that problem hasn't arisen.
Heres a screenshot from the link at #98 and is Nextbase's guidance plus a link to MOT testers guidance.
https://www.gov.uk/guidance/mot-ins...er-and-light-commercial-vehicles/3-visibility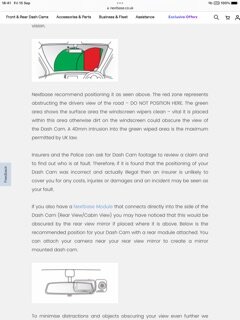 Last edited: