Just thought I would share this which I learnt from another forum.
It is for use on a serviced pitch. It saves all the hassle of trying to get the drain pipe to fall evenly and the need to carry rigid pipe.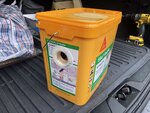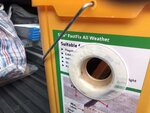 The principle is simple and it works. The van drains into the bucket which fills to the pipe insert. It then would have sufficient head to run the water to the drain.
The water will never go uphill, obviously, but will cope with the undulations of the pitch.
The seal I have used is from the rear of a high level toilet
flush pipe connection
. The convoluted pipe just pushes in.
This is my second, the first became a bit grotty. But worked well.
All I,need to do now is to find a paint that will stick to it.
John