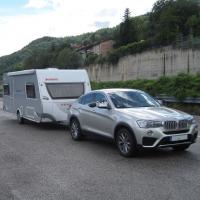 Mar 14, 2005
9,651
559
30,935
As pointed out the term "kerb weight" does not exist in legislation. Makes you wonder how an insurance company can have a clause stating that insurance is void if you exceed 95% of the kerb weight of the towing vehicle? Surely that would be an Unfair Clause in the event of a claim as the kerbweight could vary quite a bit for the same model of towing vehicle?
OK, in legislation it's called "kerbside weight", but it should be fairly obvious that what is meant is the same as "kerbweight".
Fact is, however, that kerbside weight, or kerbweight, is not documented anywhere so where insurance companies get their information from is a mystery to me. Kerbweight can even change after the vehicle has left the factory through the addition of permanent features, like a towbar, for example. There is nothing in the legal definition of "kerbside weight" that says it's an ex-works weight, so one must assume that it refers to actual weight.
Last edited: