After removing my spare carrier, chucking that, and having to buy a new tyre, because the carrier had damaged it. Then spent hours cleaning a layer of rust off and repainting it and after carrying it in the boot for a while.
I picked up an idea from another forum, I finally found a place in the van, It's under the nearside bed, just in front of the axle.
I had to lift the heating pipe up, then turn the bed support through about 30 deg. lifted it off the floor to clear the gas drop hole, and it fits as snug as a bug in a rug. See pics I'll turn the wheel over for for a fixing point and a bit of storage.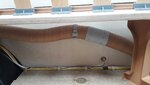 Last edited: