Hi all, I'm a new forum member but have owned caravans on and off for many years.
I have owned my latest caravan (a large twin wheel Spectrum year probably approx 2005) for a couple of years but we've never used the water system in it, we've always used site facilities for showers and washing up. ... In fact I don't even have a pipe/pump that will connect to the caravan's water inlet port. Now we want/need to be able to use the caravan's water facilities, so I'll need to buy an inlet hose (likely one that has an electrical pump at the end of it to use with an Aquaroll?) and I believe I'll also have to sort out a few other issues.
This is a picture of the water inlet port with electrical connection beside it.
What sort of pump/connection do I need for this van?
It has an onboard water tank, which does have a bit of water in it, and I've heard the internal pump run,... but I haven't never had any water come out of taps even with the internal pump running.
The van has a Truma water heater...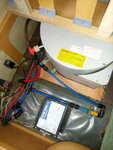 Hopefully we'll get hot water working too!
I'm not sure how the system is supposed to work... Does an external pump (which I have yet to buy) fill the internal tank? Does the van have a pressurised water system?
At one point when the internal pump was running there was a small leak from one of the blue pipes. The pipes are only around 10mm (?) diameter, can anyone point me to where I can buy new lengths of pipe? I believe it will be easy enough to connect new pipe to the existing T connectors?
Thanks,
Simon in Yorkshire.