Hi,
Wondered whether anyone could help.
I have a slight issue with my lower awing rail. Not a big issue just looks a bit untidy.
Is there a way to replace the rail and the clip at the end?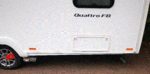 I'm not sure where I can purchase both from (rail and clip) and whether the middle section is easy to remove?
Many thanks,
Bob