Hi folks,
Has everyone used TowCar.info for all required details if your car can pull a caravan ok?
We have a 2020 SQ5 Audi and on the V5 it states Max permissible 2625, and mass in Service is 2118
Is my Mass in Service the Kerb Weight?
And if we are offered a weight plate upgrade, should we take it, and what allowance is then given?
The caravan we will be pulling is Challenger Grande 670 SE / 2023
Car V5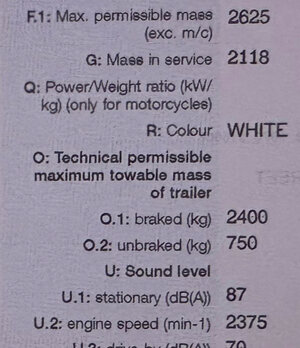 Caravan Plate: